Railfan Research Guide & Tools
There are a multitude of reasons why you may need or want to research railroads and their current and/or historical operations. Common reasons that come to mind include planning a road trip, researching local history, interest in operations, or you just want to see the changes to your favorite railroad. Before the internet your options were limited. Your best option was probably a bookstore or a library, hoping they had a book or two that covered the subject you wanted. I know many would befriend railroad employees to learn or find out about current operations. Trading pictures was a thing too. The database of knowledge about railroads has exploded since 1991 when the "WWW" came to be. Once the internet was opened up and become popular for public use, information has been only a few keystrokes away. Below I will cover the resources I use often and I hope others comment below on their favorites that I missed.
One of my favorite times to get elbow deep in the net is when I stumble by a location that appears to have more of a story. Maybe I see a set of abandoned bridge abutments or some abandoned tracks in the weeds. Maybe the town I am in just looks interesting. I may jot down some notes or try to remember the place for when I get back home. I will start digging through Google looking for a little bit of information which more often than not leads me to even more. Before I know it I have 5 browsers open, 3 maps, and a stack of books out. Learning the history of a place I have been too has always been very interesting to me.
Online Photo Databases
I am a rail photographer, so much of my research is related to my next journeys along the tracks. That isn't the only time though, sometimes I just want to be whisked away into the past to see what I wasn't able to experience, or sometimes painfully, what I just missed.  There are many places to look at and search train photos. I am the type that I like to have my couple of favorite go to websites that I use almost exclusively. One of the greatest tools is controlled by creator and not the website itself which is the description. A great description can really tell the rest of the story not seen in the photo. The two I use are railpictures.net and flickr.com that I will go over below.
Railpictures
One of the biggest benefits of this website are the quality of images. The images are screened which helps keep the quality high. Their site also includes good search tool to help you narrow down what you are looking for. Another big benefit is that the site has only railroad related photos, so you don't need to look through images that don't relate.
flickr
Flickr is a very popular photography hosting website owned by Yahoo. There database is filled with images of pretty much everything including trains. Railfans took to flickr and have been sharing their images here for years. The pros of flickr can also be a con. There is no screening process, which means you may have dig through a few poorer images to find the gems you are looking for. Flickr does try to show the best and most relevant images to your search terms which helps greatly.
Geotagged Photos
Not all images are geotagged but the ones that are have geographical identification metadata. This means that the location the image was taken can be mapped. Some cameras do this automatically, otherwise the user needs to add this information in Lightroom or in other programs. Both photo websites above utilize maps for geotagged photos and allow you to add location information on their site.

Railfan Atlas
Railfan Atlas goes one step further by adding a heatmap feature which shows where the most popular photo locations are. This can be helpful when traveling to a new area. Railfan Atlas uses images from flickr that have been submitted to a special group. Learn more about it here.
Railpictures Map
Railpictures' interactive map can search all the geotagged photos in their database by photographer, railroad, state/country, year, category, awards, and rating.
flickr Map
Flickr includes map features for geotagged photos throughout the site. You are able to see a map of just your photos, search all photos by location, or see all photos from a particular group on a map as well as singularly.
Groups & Forums
There are 1000's of groups and forums online that cover every aspect of the rail industry and every area imaginable. I won't even attempt to list them but will touch on a few. Trainorders is a well known paid forum that is a good research tool. Railpictures has an active forum more based on photo quality rather than research. Yahoo groups can be very helpful especially if you need to ask a specific question. Flickr groups can be very helpful, especially on a site filled with photos of everything.
flickr Groups
One of the best aspects of flickr are their groups. Groups are like collections of photos. Some groups are broad and others are very specific. Also, some groups are screened and others are not. If you are able to find a group that is about what you are looking for, you will be able to see an entire collection of images that relate to it.
Groups on flickr that I am associated with.
Real-Time Tracking
Historical Societies
Almost every railroad of the past and present have a historical society which helps preserves the history of the railroad and many also have a publication you can get as a member. Here is a Master List of Historical Societies. Historical societies I subscribe to include Railway & Locomotive Historical Society and Railroad Heritage.
Other Resources
Railfan Guides
Frograil Rail Tours are an amazing resource online. They offer state by state user submitted tours of railfan locations and cities. Some of the tours are basic and simple while others give you turn by turn directions and information of specific areas and railfan locations.
Books and Maps
You might not be able to read them online but you can buy them. Seriously though, Google Books gives you access to books that have been digitized and are available online to read. This can be a great resource, but beware that some books only give you a limited preview. Below I will list a few of the tools that I use.
SPV's regional railroad atlases of North America are available online including Amazon. These books are filled with detailed maps of specific regions like Mountain Plains, Great Lakes West, and Appalachia and Piedmont, just as examples. The maps show current and abandoned lines.
This site (www.djcooley.com) carries Sonrisa Publications Railroad Maps, Altamont Press Railfan Timetables, and an assortment of other maps and guides.
U.S. Railroad Traffic Atlas is a great resource if you want to know which lines haul the most tonnage by state or by railroad.
There are many sites online, including the railroads own sites, that include maps, track diagrams, track charts, and histories.
I offer two free railfan maps of the Upper Mississippi River and the Powder River Basin.
The Twin Ports Railfan Guide is also includes a map and historical background of each railroad there.
Don't forget about the railroad magazines like Trains, Railfan & Railroad, Classic Trains, Railroad Press, along with past issues like CTC Board, Railroads Illustrated, and Pacific RailNews.
The Historical Guide to North American Railroads would be a great addition to your research book collection.
I really enjoy Model Railroader's Guides to use for their extensive prototypical information on topics like coal transportation, steel mills, and lumber industry to name a couple.
There are 100's of other great railroad books available.
I hope these websites help you on your next research project and I would love to hear about your favorites in the comments below.
---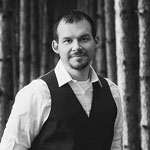 About the Author
Travis Dewitz is a professional photographer located out of Eau Claire, Wisconsin. He has been published in many books and magazines including many in the railroad industry. He does a lot of photography work and environmental portraitures for many companies and heavy industries in and around Wisconsin. He has grown up with trains and railroads are one of his passions that he pursues. His railroad photography can be seen on his website The Railroad Collection.
Like and Share with your friends and family!