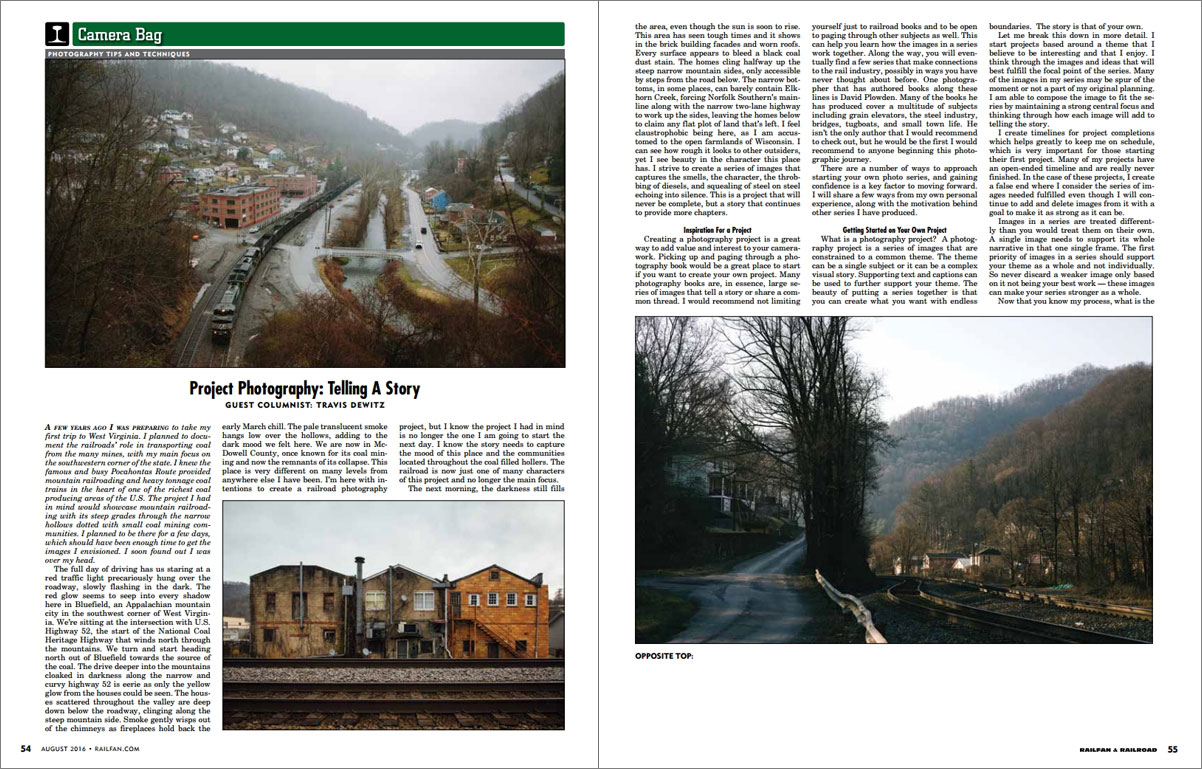 My published Camera Bag article, Project Photography: Telling a Story, for Railfan & Railroad Magazine.
A few years ago I was preparing to take my first trip to West Virginia. I planned to document the railroads role in transporting coal from the many mines with my main focus on the southwestern corner of the state. I knew the famous and busy Pocahontas Route provided mountain railroading and heavy tonnage coal trains in the heart of one of the richest coal producing areas of the Unites States. The project I had in mind would showcase mountain railroading with their steep grades through the narrow hollows dotted with small coal mining communities. I planned to be there for a few days which should have been enough time to get the images I envisioned. I soon found out I was over my head.
The full day of driving has us staring at a red traffic light precariously hung over the roadway, slowly flashing in the dark. The red glow seems to seep into every shadow here in Bluefield, an Appalachian Mountain city in the southwest corner of West Virginia. We're sitting at the intersection with US Highway 52, the start of the National Coal Heritage Highway that winds north through the mountains. We turn and start heading north out of Bluefield towards the source of the coal. The drive deeper into the mountains cloaked in darkness along the narrow and curvy highway 52 was eerie as only the yellow glow from the houses could be seen. The houses scattered throughout the valley deep down below the roadway that clung along the steep mountain side. Smoke gently wisped out of the chimneys as fireplaces held back the early March chill. The pale translucent smoke hung low over the hollows adding to the dark mood we felt here. We were now in McDowell County, once known for its coal mining and now the remnants of its collapse. This place was very different on many levels from anywhere else I have been. I was here with intentions to create a railroad photography project, but I knew the project I had in mind was no longer the one I was going to start the next day. I knew the story needed to capture the mood of this place and the communities located throughout the coal filled hollers. The railroad was now just one of many characters of this project and no longer the main focus.
I strived to create a series of images that captured the smells, the character, the throbbing of diesels, and squealing of steel on steel echoing into silence.
The next morning, the darkness still filled the area even though the sun was soon to rise. This area has seen tough times and it showed in the brick building facades and worn through roofs. Every surface appeared to bleed a black coal dust stain. The homes clung half way up the steep narrow mountain sides, only accessible by steps from the road below. The narrow bottoms, in some places, could barely contain Elkhorn Creek which forced Norfolk Southern's mainline along with the narrow two lane highway to work up the sides leaving the homes below that claimed any flat plot of land that was left. I felt claustrophobic being here as I was accustomed to the open farmlands of Wisconsin. I could see how rough it looked to other outsiders, yet I saw beauty in the character this place has. I strived to create a series of images that captured the smells, the character, the throbbing of diesels, and squealing of steel on steel echoing into silence. This is a project that will never be complete, but a story that continues to provide more chapters.
Creating a photography project is a great way to add value and interest to your camerawork. Picking up and paging through a photography book would be a great place to start if you want to create your own project. Many photography books are in essence large series of images that tell a story or share a common thread. I would recommend not limiting yourself just to railroad books and to be open to paging through other subjects as well. This can help you learn how the images in these series work together. Along the way, you will eventually find a few series that make connections to the rail industry, possibly in ways you have never thought about before. One photographer that has authored books along these lines is David Plowden. Many of the books he has under his name cover a multitude of subjects including grain elevators, the steel industry, bridges, tugboats, and small town life. He isn't the only author that I would recommend to check out, but he would be the first I would recommend to anyone beginning this photographic journey.
There are a number of ways to approach starting your own photo series and gaining confidence is a key factor to moving forward. I will share a few ways from my own personal experience along with the motivation behind other series I have produced.
What is a photography project? A photography project is a series of images that are constrained to a common theme. The theme can be a single subject or it can be a complex visual story. Supporting text and captions can be used to further support your theme. The beauty of putting a series together is that you can create what you want with endless boundaries. The story is that of your own.
Let me break this down in more detail. I start projects based around a theme that I believe to be interesting and that I enjoy. I think through the images and ideas that will best fulfill the focal point of the series. Many of the images in my series may be spur of the moment or not a part of my original planning. I am able to compose the image to fit the series by maintaining a strong central focus and thinking through how each image will add to telling the story. I create timelines for project completions which helps greatly to keep me on schedule and is very important for those starting their first project. Many of my projects have an open ended timeline and are really never finished. In the case of these projects, I create a false end where I consider the series of images needed fulfilled even though I will continue to add and delete images from it with a goal to make it as strong as it can be. Images in a series are to be treated differently than you would treat them on their own. A single image needs to support its whole narrative in that one single frame. The first priority of images in a series should support your theme as a whole and not individually. So never discard a weaker image only based on it not being your best work as these images can make your series stronger as a whole.
Now that you know my process, what is the best way for you to start your first project? I would start by keeping it as simple as you can, photograph a subject you enjoy, and set a short time limit. There are an endless number of project ideas that you can start your first project with, but I would start one that you know will be smaller in size thus keeping it from feeling overwhelming. One idea would be to document a single day or weekend event. This will keep you on a tight timeline and give you a firm ending. Your goal will be to find a story to tell of or about this event. All of the photos you will need to capture for your series can be completed within this short timeframe; this will give a definite beginning and ending. If you are planning your first project to be railroad related, one advantage too many railroad related events is the possibility for better access which is helpful in getting unique photos that may not otherwise be possible. Events like this include Operation Lifesaver, Holiday Trains, Passenger Specials, and the like. If you want to make this a little more challenging, make your own rules that you must follow, such as only using a 50mm lens or including elements of human interest. These guidelines can end up being an integral component to your series creating a uniform look between the images.
Once you get into the grove of doing a couple of smaller projects, I encourage you to create a more in depth study of a subject. Cover a geographic area, a commodity hauled by rail, a shortline railroad, or your favorite division. "A Day in the Life of…" could be a great story to work with and don't be afraid to do something beyond railroads. For example, I have put together series about grain elevators, US post offices, coal, the Bakken oil fields, and Whitetail Deer hunting. If you need more inspiration, look at other photographers work for inspiration like Mike Froio's, "From the Mainline", Lewis Ableidinger's, "Photographs from the Railroad Earth", or Emily Moser's, "Radioactive Railroad" just to name a few.
I hope this article encourages you to create your own series of images to tell your own story. Once you have a finished product, you will find that there are many outlets you can use to share it. You can create an album on the photo sharing site flickr or even on social media sites like Facebook. If you are more tech savvy, starting a blog or better yet, creating your own website is a great option. Maybe you would rather have your own book printed through a service like Blurb. Projects can be such a powerful tool to be used in the photography world and there is a great sense of accomplishment once you see your finished project and are able to share it with anyone you choose.
See the rest of the photos in the August 2016 issue.
---
Subscribe to Railfan & Railroad Magazine

to see more content like this.
---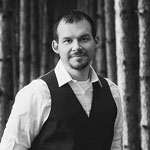 About the Author
Travis Dewitz is a professional photographer located out of Eau Claire, Wisconsin. He has been published in many books and magazines including many in the railroad industry. He does a lot of photography work and environmental portraitures for many companies and heavy industries in and around Wisconsin. He has grown up with trains and railroads are one of his passions that he pursues. His railroad photography can be seen on his website The Railroad Collection.
Like and Share with your friends and family!