Chance, Luck, or Fate
I don't know if this photograph found its way to me through chance, luck, or fate but it made it. This is the story behind how this photograph made it into my possession and why it is so special to me. Let me start with the very short version of the story.
The Short Version
The engineer of that train is my grandfather. I found the photo  by going through a large stack of railroad photographs that was shown to me by a stranger in the middle of the night that I just happened to run into, in the middle of nowhere (well pretty much middle of nowhere depending on how you look at it), 300 miles from home just outside Chicago.  The stranger wasn't a prostitute or drug dealer, in case you were wondering.
The Less Short Version
Every year for the last four or five years, I make the trip to Lake Forest, Illinois to attend The Center for Railroad Photography and Art conference at Lake Forest College. Lake Forest is a well off suburb located just north of Chicago. This trip also gives me an opportunity to photograph rail operations around the Chicago area. The first year I made the trip to the conference I wanted to photograph what is known as Rondout Tower.  Rondout Tower is a building next to the railroad tracks that is manned by a railroad employee that controls track switches for train movements. Towers once were  common place along the railroad at various junctions, but few are left today. So history wise, towers are high on the railroad stuff to photograph list.

Rondout Tower is located just a few miles away from Lake Forest so after the conference was over I headed there. Rondout is actually a place, but barely. Google maps didn't always include Rondout but now they do. It is more of a railroad location, a name on a white sign, rather than a city location. Many railroad location names do end up being much more important, some even have cities named after them, but that is another story. Rondout is where two railroads cross over each other and is as in the middle of nowhere as you can get in a Chicago suburb. It is surrounded by a few industrial businesses on the north side and by woods everywhere else. If you didn't know where it was you would just drive right by the road that goes to it.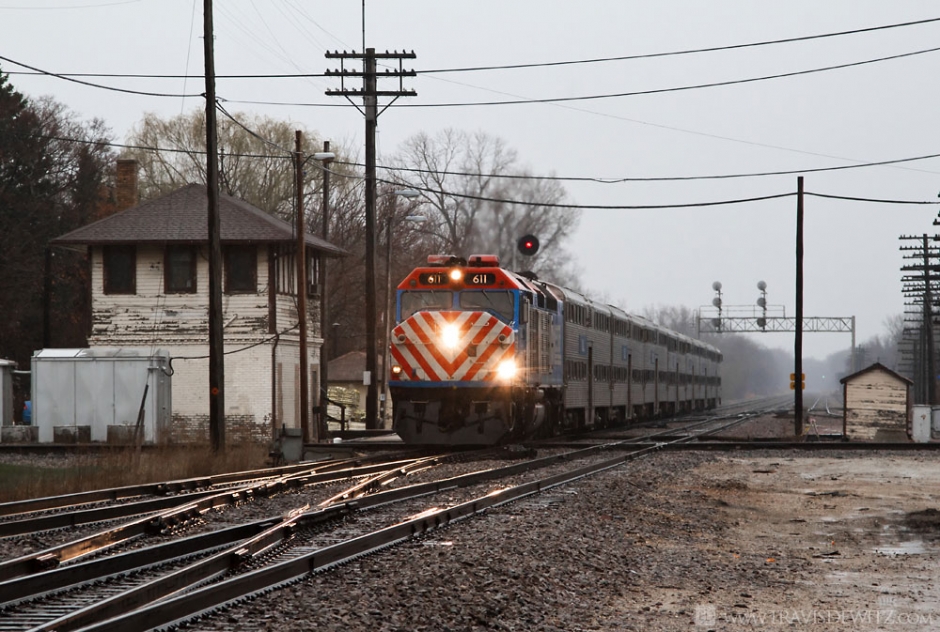 I guess the actual story starts here. I pulled into the Rondout Tower parking area, got out and took a few photos. I was actually walking back to my car to leave when a man came out of the tower and yelled down to me. He asked what I was doing. I said I was down for the railroad conference and wanted to check the tower out since I was in the area. He then invited me up into the tower. In today's world, you would be lucky to be invited within 1/2 mile of train tracks. I sometimes think simply being close enough to see the tracks might cause someone to call the police on me. Obviously I am exaggerating but barely. I could barely believe the invite I had just received to come up into the tower and headed straight up. He introduced himself as Bob and then proceeded to give me a short tour of the tower and ask me about myself. Once he knew I was a railfan from Wisconsin the stories started to fly. I wish I could remember them all and all of the details but I will give you the ball park version of what I remember. He has also been a life long railfan like myself and has photos of trains from all over the US. He actually had a couple of boxes of them right next to his desk, most of them 8X10 in size. In between showing how the tower operated we went through the photos as he told me about them. It was getting pretty late into the night when got to a section of photographs from around my home town of Eau Claire, Wisconsin. Bob was working for an exploration company logging drilling cores from test sites all over Northern Wisconsin. It was his company that discovered the copper & gold deposit outside Ladysmith, Wisconsin. Their office was located in Eau Claire, and he spent some time here between various stints working onsite with the drilling crew.  This explains his collection of photos from the area. He got to know the relief towerman at Eau Claire tower, and he let him hangout in the tower a few times. Bob spent part of one evening in the tower along with a student learning the plant & how to throw the Armstrong switches to line up a train. I was in complete disbelief when he pulled out the photo that is pictured on top of this post since this was an 8X10 you can really see all of the details in the photo. It is a photo of a Chicago and North Western train traveling through Uniroyal area and headed towards Altoona. The photo was taken from the top of Eau Claire Tower which is now located in Carson Park on display. When I looked closer, I was able to recognize my grandfather as the engineer in this train. What a great find. Who would ever think that you would find a photo of someone you know that a stranger has in another state taken years ago. I was invited to stop back the next night after the conference. To my surprise he had a copy of this photo which he gave to me. Of all the photos that Bob has, this was one of the few photos he had a duplicate of. At some point someone had needed to use this photo for something and he had a reprint made for them to use. Once they were done with it, they gave it back. When Bob went home after his shift early that morning, he found that extra copy which he gave to me.  Since then, Bob and I have stayed in contact and he has shared many more stories of his life along the rails with me. I sincerely thank you for being a friend, Bob.
---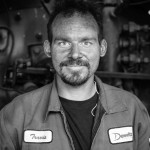 About the Author
Travis Dewitz is a professional photographer located out of Eau Claire, Wisconsin. He has been published in many books and magazines including many in the railroad industry. He does a lot of photography work and environmental portraitures for many companies and heavy industries in and around Wisconsin. He has grown up with trains and railroads are one of his passions that he pursues. His railroad photography can be seen on his website The Railroad Collection.
Like and Share with your friends and family!