A personal favorite time to shoot in the mountains has been on dreary and dark days that produce cool conditions that create really dramatic images. I also enjoy watching the railroads operate on such days — a difficult grade is made even more so when you throw in wet rail and other harsh conditions that create wheel slip and a loss of tractive effort.
Mountain Railroading
I was introduced to mountain railroading at the young age of 5 when a struggling westbound manifest train captured my attention from the window of our family car in Shawsville, Virginia. Seeing the train creeping up the hill with the sound of locomotives in notch-8 echoing through the hills fascinated me so much that I talked my dad into turning around the car to find a spot to watch it go by. We had no idea where to go, but the road we turned on hoping to find the tracks happened to be Den Hill Road which led to the famed Montgomery Tunnel. I anxiously hopped out of the car and awaited the train to emerge from the well-known twin tunnels. Five minutes passed before the ground began to shake as the heavy laden manifest thundered out of the tunnel as a cloud of smoke filled the air. Flanges squealed as the engines struggled to maintain traction as I watched all of this with amazement.
Never before had a train captured my attention like it did that day, nor had I ever had any interest in having my dad turn around to get a better look at a passing train, but something caught my attention that morning. After that experience, it's safe to say that it sparked an interest in me that would last a lifetime!
My growing up years was spent on Norfolk Southern's Christiansburg and Whitethorne Districts(ex-Norfolk & Western and Virginian respectively) for the most part. Each has their fair share of beautiful rock cliffs towering above the tracks, tunnels, tight curves, steep grades, and just typical mountain scenery. I remember spending many afternoons going to a place called Whitethorne, which is helper base on the ex-VGN mainline, and watching heavy 20,000 plus tons coal trains acquire helpers for the climb east to the summit of Merrimac Hill. It never grew old watching two or three locomotives struggle to get a heavy train moving after stopping and feeling the ground shake as they thundered by making a run for the hill.
I also loved spending time along the New River between Belspring and Glen Lyn, Virginia. That section of track lacked in steep grades but was absolutely gorgeous and yielded so many great locations to take pictures. Something else cool about it was the N&W ran on one side, and the VGN on the other side so you could jump between lines when trains came.
It wasn't until later that I had more opportunities to travel and be introduced to more. I first visited Norfolk Southern's Pocahontas District, or known by most as the Pokey, in 2008 and the ex-Virginian Princeton Deepwater District in 2012. Talk about a new level of mountain railroading for me!
Both offer a new type of mountain railroading and scenery that I hadn't seen prior. Both railroads are beautiful in their own way. The pokey is known for its numerous tunnels, N&W signals, Elkhorn Grade, trestles, and old mining towns scattered along the tracks that make for some moody scenes that one can't capture anywhere else but the Pokey. The Virginian on the other hand is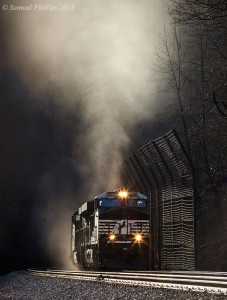 known for its numerous huge trestles and extremely steep and grueling grades. The Virginian offers some of the best scenery and quality locations on any NS line in Southern West Virginia.
I've made trips to the Pokey before not necessarily just for pictures, but to merely enjoy the day by watching trains climb Elkhorn Grade. There's something really cool about watching a train crawl past you in notch-8, sand flying, with the sound of flange squeal drowning out any other noise around you. That's what I love about mountain railroading, it's no only awesome for pictures, but the experience of being there and watching it in operation is even better! The opportunities and scenes mountain railroading throw at a photographer is very unique and intriguing. Combine dramatic lighting, a cool location, and a struggling train roaring upgrade and the resulting image it produces is awesome, like the shot above.
Climbing upgrade out of late evening sun, train Q6A is starting to battle one of the steepest sections of Elkhorn Grade near Crozier, West Virginia. Sand is flying as the engineer does everything in his power to maintain traction. The train has two locomotives up front, and one DPU locomotive on the rear controlled by the engineer on the head-end. Even with 13,200 horsepower, the train is down to almost walking speed as it inches its way toward the summit.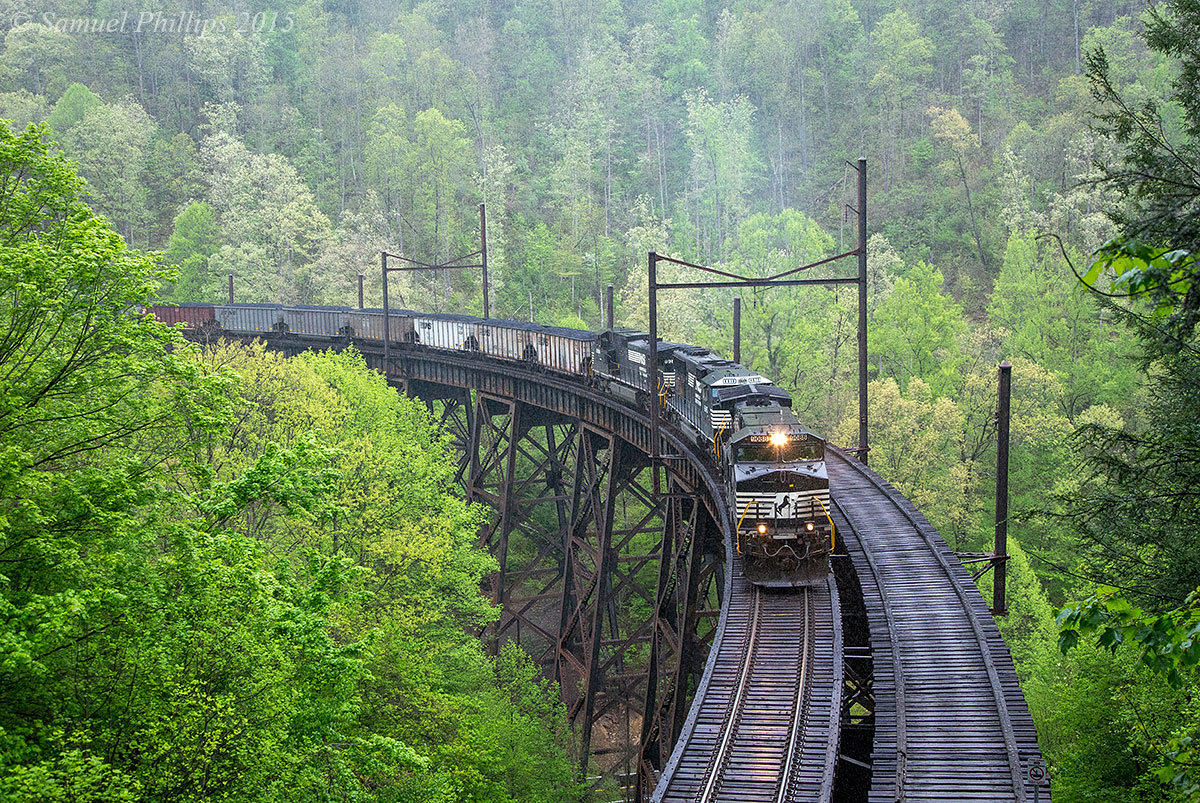 Spring is always a magical time of year in the Appalachian Mountains — the sight of blooming trees and bushes is beyond beautiful. I love heading out to capture springtime scenes and the Spring of 2014 wasn't an exception.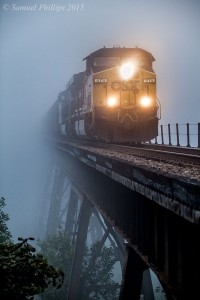 The sound of flange squeal and locomotives in notch-8 reverberate off the mountains on a rainy Spring afternoon, as train U86 assaults grueling 2.2% Clark's Gap Grade at Garwood, West Virginia. The heavy rain is making it a slow go for this train on the steep grade as the locomotives' tractive effort is greatly reduced. This is the second cut coal cars this crew has brought up the mountain this Spring day. Ten miles ahead at the summit of the grade, both cuts will be doubled together and ran east to Roanoke in one massive train around 9,000 feet in length and around 24-25,000 tons.
Emerging from very heavy fog, CSX train No. T450 rumbles across massive Copper Creek Trestle at Clinchport, Virginia on the ex-Clinchfield Railroad early in the morning of August 13th, 2014. Two big GE AC6000's power the heavy train heading south toward Erwin and eventually Spartanburg, South Carolina.
After getting to see some new parts of the country in the last year, naturally I was drawn to area's that had mountain railroading. Not to say that I don't enjoy railroading in the Midwest, but the mountains are home to me so-to-speak. Some of my favorite area's I've visited in the last year have been the West Slope in Pennsylvania and Union Pacific's Moffat Tunnel Subdivision situated in the Front Range of the Rocky Mountains.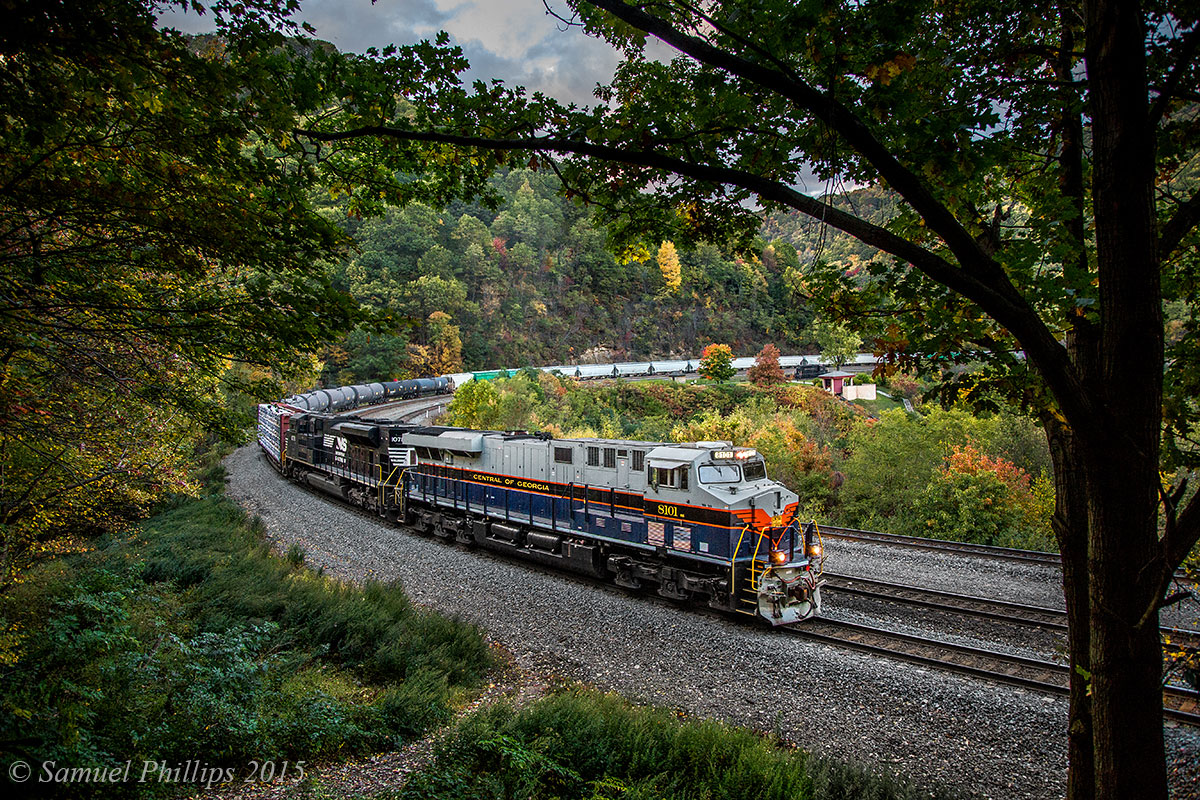 Train W7A climbs upgrade out of Altoona, Pennsylvania as it wraps around the impressive Horseshoe Curve built by the Pennsylvania Railroad. Autumn colors and the Central of Georgia heritage unit create a beautiful scene as the train assaults the steep grade on a nice October 2014 afternoon. This view situated on the west side of the curve is one of my all time favorite places to hang out and watch trains climb the hill. It is such a cool place to relax and enjoy the show; there is usually never a shortage of trains to shoot when visiting and the occasional heritage unit makes it even more fun!
My first trip out West was just two months ago in February 2015. I visited the Denver area and got to witness some of the most impressive railroading I've seen — starting out on BNSF's Joint Line on my way into Denver, and ending with three days on the Moffat Subdivision. Having never been out there before, I managed to have a good first day by exploring and finding some cool places. Thankfully, a train showed up at most of the spots I found after waiting a little bit. Google maps and looking at other peoples photos from the area always helps me out, along with a scanner to tune into what's going on.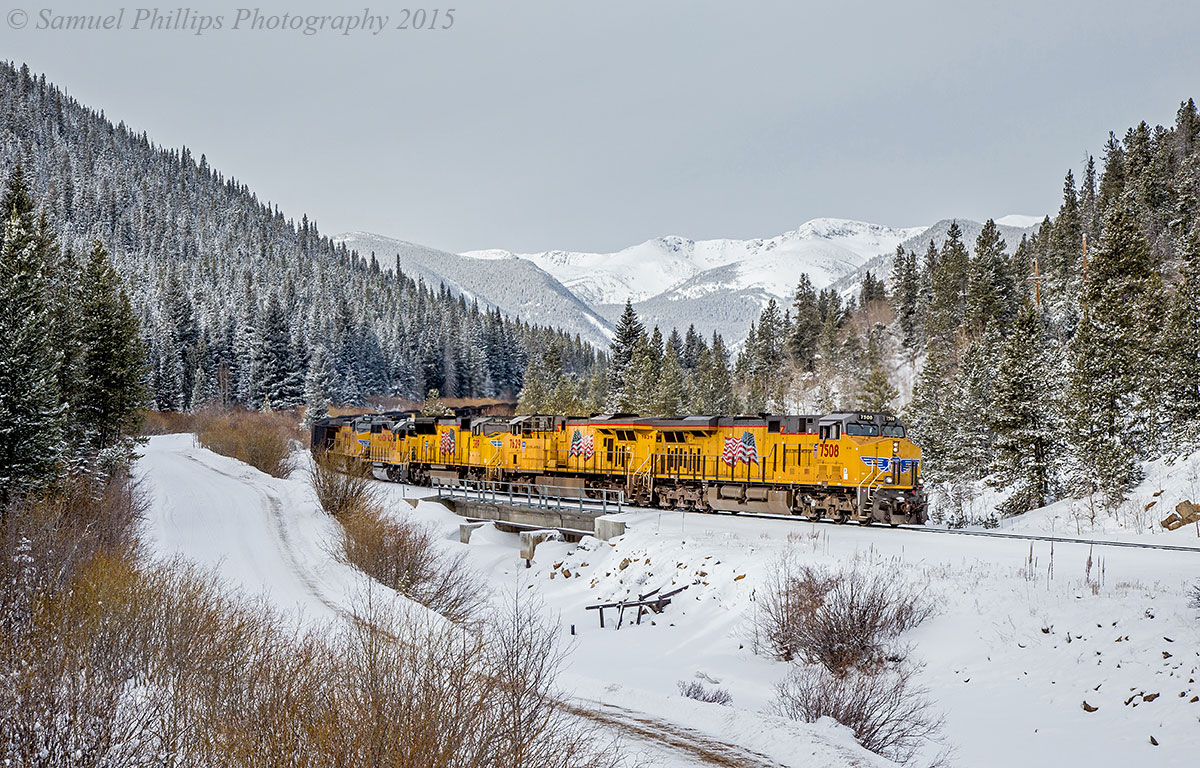 In a beautiful snowy scene, UP 7508 leads an eastbound manifest downgrade through Tolland, Colorado with the breathtaking Rocky Mountains of Winter Park towering off in the distance. The train is descending a consistent 2.2% grade for the next 30 or so miles into Arvada. The Moffat is unlike any other mountain railroad I've seen back home in Virginia — instead of mountains being 4,000 feet tall at max, most of the peaks looming behind the train are well over 9-10,000 feet in elevation!
---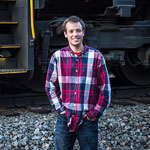 About the Author
Samuel Phillips is a 19 year old photographer who resides in Radford, Virginia along Norfolk Southern's mainline to Bluefield and Bristol. He enjoys photographing railroad related subjects the most, but does have interest in portrait photography and occasionally does portrait sessions.
More of his railroad photography can be seen here.
Like and Share with your friends and family!