The Move to Alaska
As the saying goes the only constant in life is change, so with that thought nestled tightly within the confines of my head I packed my belongings and moved from Colorado to Alaska. Why Alaska? There were a number of reasons I chose Alaska but suffice to say I needed a big change and as it turns out this was exactly what I needed. That was April 2011 and it is now June 2015, more than 4 years have transpired since that fateful decision and my life is much different now. While there have been many changes since I arrived in the Last Frontier not everything is different. My passion is still photography, perhaps even more so since arriving in Alaska, but how I approach my photography is much different from when I lived in Colorado.
All freight carload traffic enters the state this way and the barge schedules and updates are published on the internet.
I loved living in CO, it was centrally located and the options for railroad photography were diverse. From my home in Colorado Springs I had the famed Jointline essentially in my backyard. I was an hour from the big city of Denver and 2 ½ from UP's Overland Route in Cheyenne. Not to mention my favorite, UP's ex-Rio Grande Moffat Route. Within a few hours' drive I could be in any number of states. Anchorage, on the other hand, is a one railroad town, heck Alaska is essentially a one railroad state. The Alaska Railroad comprises 470 miles of railroad stretching from Seward on the south end to Fairbanks on the north in a state that is 667,300 square miles. More than twice the size of Texas, sorry Texas, which means I can drive for hours in any direction and I am still in Alaska. The variety I so loved in Colorado was nowhere to be found in Alaska. I could no longer just leave my home and expect to see a variety of trains. A new approach would become increasingly necessary.
Initially, every location, every train was new and exciting, it was great to explore new places but I soon realized variety is the spice of life and I craved something different. That being said without a flight to another state I was going to have to find a way to keep things fresh and interesting. Back in Colorado sometimes I would head out and just pass a few hours watching trains. I could always count on seeing at least one train, rarely was I skunked on the Jointline. Not so in Alaska, pick the wrong location or time of day and I guaranty, you will not see a train. As I said change was necessary.
In order to maximize my success I became a student of the railroad. I became very familiar with operations. In the summer the railroad runs scheduled passenger trains, hence the schedules were published. This certainly helped but what about freight operations? Some research revealed that interchange was accomplished with the lower 48 railroads via two barges, one from Prince Rupert, British Columbia the other from Seattle, Washington All freight carload traffic enters the state this way and the barge schedules and updates are published on the internet. Helpful information to have, this enabled me to become more successful when I did go out. Alas I ended up with a much higher success rate.  Not being familiar with the locations like I was in Colorado I purchased quite a few maps and studied them. I was hoping to find good photo opportunities, but maps don't tell the whole story. So while a map might provide a good starting point there was no substitute for a physical visit. Upon checking out a location I made notes as to what I thought the best shot would be, noted any obstructions that couldn't be seen on a map etc. I continue this process today when I find a location that I think would make for a nice photograph but for whatever reason I am unable to take one at that time.
I never really gave much thought to the weather while living in CO; it never seemed that extreme to me. In Alaska not only can the weather be extreme, as often there will be days or even weeks of good or bad weather, but I have to contend with the seasons to a much bigger degree than I ever did in Colorado. As they say here in Alaska we only have two seasons, winter and all of the others combined. In the winter you must contend with the long days of darkness and in summer, what seems like the endless hours of daylight. Losing track of the time is a very real possibility as it never seems as late as it really is. It seems most Alaskans make due with less sleep during the summer months. Often while living in the lower 48, I would pick a location and if the end result wasn't exactly what I had hoped for I would make a note to come back in the near future for another attempt. In Alaska the sun angles change so quickly that if you do plan to return to a location you need to do it quickly or you will find yourself waiting another year to try it again. Another area I never had to address in CO is wildlife encounters. In all the years I spent taking pictures in CO and the lower 48 I have never encountered any wildlife with the exception of deer and elk. In Alaska, not so, in the over 4 years I have been here I have had numerous encounters with bear, moose, and even an elusive wolf. Proof that if one is careful and respectful both can co-exist.
To wrap it up I find that my photography here is done with a much greater purpose. The so called easy shots have been taken and each time I head out now it is with a specific goal in mind: A specific location, train or event as opposed to just being trackside and waiting for the next train. I am also much more knowledgeable about the railroad I photograph as well as my surroundings. And while I occasionally took photographs of landscapes previously I find that since I arrived in Alaska that the scenery, wildlife, and lifestyles are just as big a draw as the trains. A style that I have carried with me on my trips to the Outside, as the lower 48 is called in Alaska. All of this being said I believe this makes me a more varied photographer and in my eyes that isn't a bad thing. While I do miss Colorado and the sheer variety it offers as long as I am in Alaska I will continue to maximize my time spent behind my cameras as there is no end to the photographic opportunities both trains and otherwise.
More of Frank's photography can be viewed from these links.
Website | Railpictures
---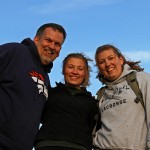 About the Author
My interest in trains has a long and complicated beginning and was mainly a way to keep me out of trouble. I didn't know a soul that worked for a railroad and had yet to hear the term Railfan my primary interest was photography until I ran across the November 1978 copy of Trains. I was hooked. The town I grew up in had one set of tracks and while I frequented them as much as possible activity was infrequent at best. Fortunately once I started my first year of college I met my friend David Giglio who proceeded to take me to Cajon Pass and Tehachapi, what an awakening. My interest continued to grow thanks to Dave and his father. I soon switched to slides and devoured anything rail related. Probably like many others I soon wanted to have my work published however it would be many years before that event would happen. I soon discovered that if one was able to write it was often easier to get ones photos published. Now almost 40 years later I don't recall what that first picture was but I can say I still get a thrill seeing one of my photos in print. Again, thanks to Dave, I inherited a love for the Rio Grande so when a job opportunity presented itself I moved myself and my family to Colorado Springs and chased the Rio Grande until it was no longer possible. Not too long after arriving in Colorado me and three others were able to form the Denver & Rio Grande Modeling & Historical Society, which I am happy to say continues to publish a quarterly magazine. Currently on Vol. 14-2. After 17 years in Colorado it was time for another change, my kids had grown and were in college, so moving was a bit easier this time, although much further away to Alaska. During all of this time I was involved in the mortgage industry in one form or another. A role which I continue with today although I also have a role within the transportation department of the Alaska Railroad. I had always resisted working for the railroad I thought possibly it might ruin my love for the hobby, however, this opportunity was too good to pass up. And I have found that not to be true.
Like and Share with your friends and family!