The old, well-worn adage tells us, "A picture is worth a thousand words." That is probably no truer than in the railfan hobby. Our curious obsession with the steel wheel on the steel rail revolves around images, most particularly photographs–making photographs, looking at photographs, sharing photographs. How many times has it been said, "I'm going out to take train pictures"?
"If you want to be a writer, you must do two things above all others: read a lot and write a lot. There's no way around these two things that I'm aware of, no shortcut." Steven King
But the written word is also part of the deal, part of the attraction, is it not? Of course railfans are interested in the "journalistic" aspect–the what, where, when–the "nuts and bolts," and the historical background. Histories, which, although well written, can be rather dry (and boring).Of course we're interested that the Norfolk & Western was completed near Rawl, West Virginia on September 22, 1892. But unless you were actually there, those are just dates on a page, nebulous and hard to "feel." Photographs need words to complete the story. What was it like that long-ago day at Rawl? Who was there, and what were they feeling? The experience is also important, and can make for the most interesting–and lingering–railroad reading.
Further, a big part of the hobby for many railfans is writing about trains, and writing means reading. I'm a voracious reader, reading everything I can get my hands on, railroad-related or not. The famous writer Stephen King has said, "If you want to be a writer, you must do two things above all others: read a lot and write a lot. There's no way around these two things that I'm aware of, no shortcut."
So, which pieces of railroad literature have stood the test of time for me? What books and articles have informed my own rather meager efforts at writing about railroads and railroading? It's an easy list for me to come up with; while some might consider these works "dated," the fact is, they've stuck with me, even after all these years since I first encountered them. Give them a look. No, even better, give them a good long read.
Recommended Reading
Lucius Beebe, Mixed Train Daily (1947). Beebe is often credited with creating the railfan book, with his 1938 High Iron, a Book of Trains. For me, it's the 1947 Mixed Train Daily, a sometime raucous account of shortline railroading that is the writer's crowning achievement. Mixed Train Daily, alas long out of print, should be on the shelf of any railfan, well worth the effort to find a copy. (ISBN 0831070269)
A. Botkin and Alvin F. Harlow, A Treasury of Railroad Folklore (1952, with subsequent reprints). This is a 530-page doorstop of a book chock-full of anecdotes, stories, vignettes and even songs about trains and railroads. I found my 1986-dated copy over 25 years ago in the discount section of some long-forgotten bookstore, and these days it's readily available-at bargain prices-from third-party booksellers on Amazon and eBay. (ISBN 1199398802)
Jim Boyd, Illinois Central: Monday Mornin' Rails (1995). Not just another "slide show of the month" photo book, the late editor emeritus of Railfan & Railroad magazine provides us with a delightful account of railfanning—and working for—the great Illinois Central Railroad. Boyd also shares his experiences working as a field service technician for General Motors' Electro-Motive Division (EMD). I have long said that if I ever write a railfan photography book, I want it to be like Boyd's Monday Mornin' Rails. (ISBN 0944119131)
Kevin EuDaly, "Run 8 to Apex," Trains Magazine, April 1992. A wonderful—and rather short—story about a long-gone Chesapeake & Ohio branchline in Eastern Kentucky, including a cab ride. There's a wistfulness present in this little article, about what was and what will never be again.
Ron Flanary, "Yes, I Did Want to Run a Railroad," Trains Magazine, July 1978. Flanary's recounting of his work as a management trainee for Southern Railway in the early 1970's is almost comical, and is essential reading for any railfan considering working for the railroad. The stories Flanary recounts can easily be pictured as a black comedic movie.
Freeman Hubbard, Railroad Avenue: Great Stories and Legends of American Railroading (1945). Another out-of-print oldie but goodie. Similar to Botkin and Harlow's Treasury of Railroad Folklore, but from one of the writers that practically single-handedly created the genre of railroad literature. Freeman was, for many years, the editor of Railroad magazine, which continues on today as Railfan & Railroad.
Kenneth Hojnacki, "Memory Making 101," Trains Magazine, April 1988. For me, one of the best articles ever written, from the railfan perspective. Hojnacki writes about a day spent with an Erie-Lackawanna maintenance crew, including a ride on a hi-rail truck. Trains are almost secondary to the narrative, and in fact, only a short local freight makes an appearance. Herein lays the incredible quote, "Trains alone do not a railroad make."
Reid, Extra South: An Unscheduled, Unhurried Look at Dixie Steam Railroading (1964). This is a slim volume, made up of stories about short- and branchline steam in the South, with a gallery of main line steam photos. Reid was a newspaperman by trade, and his skill as a writer and storyteller shines through in these wonderful little stories with titles like, "Yesterday, the Huckleberry." Reid is also known for his 1961 The Virginian Railway, still – to this day–considered the definitive book on the unique coal hauler.
Paul Theroux, The Great Railway Bazaar: By Train Through Asia (1975) and Riding the Iron Rooster: By Train Through China (1988). Theroux is generally regarded as one of the greatest travel writers of all time, and any of his works, which appeal to the general public, are nevertheless excellent reading for railfans. It's obvious that Theroux must be, at the very least, a casual railfan. His enthusiasm for and love of train travel is infectious. (The Great Railway Bazaar, ISBN 0618658947; Riding the Iron Rooster, ISBN 0618658971)
Linda Grant Niemann and Joel Jensen, Railroad Noir: The American West at the End of the Twentieth Century (2010). Another piece of crucial reading for the would-be railroad employee. Niemann's gritty, bare-knuckle, no-holds-barred exposition of what life is like for the working railroader, along with Jensen's otherworldly photography makes for an incredible work that transcends the railroad hobby. (ISBN 0253354463)
Of course, this is not, by any stretch of the imagination, intended to be an all-inclusive list. Nor should this be considered a list of the absolute "best" pieces of railroad literature. It's simply the opinion of this writer, the railroad writing that has endured the test of time for me, the essays and books that are never far from my mind. The beauty of writing about railroads is that whatever experiences and books and articles inspire you makes your writing individual, unique, and thoroughly enjoyable. What serves as inspiration for one writer may not for anyone else, and that's just fine, as it works for all of us, enriching the world of railroad literature.
His photos can be found here on Flickr.
---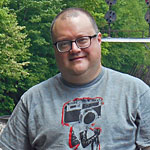 About the Author
Eric Miller is a lifelong resident of Southwest Virginia, and currently lives on a mountaintop near Wise, Virginia with his wife Rhonda, son (and budding railroad photographer) Tristan, and three mischievous cats. Eric has been a railfan since childhood, and has had his photography and writing published in Railfan & Railroad, Railroads Illustrated, Railroad Explorer, and The Railroad Press magazines, and his poetry and photography have appeared on the Lightsource Photographers Railroad Page.
Like and Share with your friends and family!