An outbound Metra passenger train departs the north side of Chicago Union Station. This view is from under the new River Point office building construction. This will be a 52 story ultra modern office building located at 444 West Lake Street. River Point sits over the tracks in a triangle shaped parcel that is between Lake St., Canal St. and the Chicago River. The south side of this tower now stands were Amtrak's Lake Street Tower once stood. Metra 405 is about to hit daylight and cross over Canal Street.
---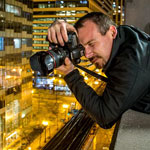 About the Photographer
Travis Dewitz is a professional photographer located out of Eau Claire, Wisconsin. He has been published in many books and magazines including many in the railroad industry. He does a lot of photography work and environmental portraitures for many companies and heavy industries in and around Wisconsin. He has grown up with trains and railroads are one of his passions that he pursues. His railroad photography can be seen on his website The Railroad Collection.
Like and Share with your friends and family!