Top 10 Best Railroad Photography Books for Photographers
I love books that showcase amazing photography. I also have a strong passion for railroads and railroad photography. So it is only natural that I love great railroad photography books. There are different types of railroad photography books out there. What I mean about different types is that there are railroad books that serve different purposes. Some railroad books are about documentation of a specific locations or regions, some are about telling the history of a specific railroad or line. Others showcase the photography of some of the railroad photographers out there which is what I reviewed below. The books I reviewed below are from my personal collection. I obviously do not own every railroad title out there, not even close, so I am sure I missed many incredible titles which I would love for you to share in the comments below. The books I reviewed below are arranged in order from what I believe are the best to least favorite in photography quality and aesthetics. I reviewed these books based only on the photography in the books and not the subject or text. The top 4 books below could be put head to head with many top photography books on the market. Great photography is great photography and it doesn't matter the subject. If you own and love one of the top 4 books on this list, I think this review will be spot on for you personally.
Also see Part 2 – Top 10 Railroad Photography Books for Photographer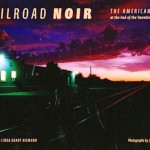 Railroad Noir by Joel Jenson and Linda Niemann

If I had to choose just one railroad photographer's photography to look at I think I would choose Joel Jenson's. His works are more creatively captured and often convey motion or emotion. He also is able to cross the line between black and white and color very well. The book Railroad Noir contains  both along with a great variety of his work. My #1 pick.  Read Customer Reviews
---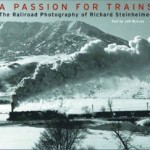 A Passion for Trains by Richard Steinheimer and Jeff Brouws

Richard Steinheimer is recognized and respected as one of the best railroad photographer to ever hold a camera. His photography in this book is beyond stunning. The black and white images just feel alive which not everyone can capture. The book contains images of steam engines to diesel locomotives including the men and women who make it all come together. Read Customer Reviews
---
Ted Benson. What else needs to be said? His rich black and white photography of railroad subjects of the past is beyond inspiring. This book contains all aspects of railroading including steam and diesel operations. No photography book collection is complete without this book. If you don't own it, buy it, you won't regret it.  Read Customer Reviews
---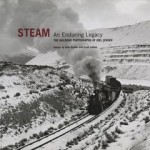 Steam – An Enduring Legacy by Joel Jensen, John Gruber, and Scott Lothes

This Joel Jenson book is all about steam locomotives. The creative and skillful compositions make this book a complete joy to page through. I will admit that I am a diesel kind of guy but this book will never leave my collection. This book transports you into a world of steam railroading with many scenes showing the people who keep these beast alive.  Read Customer Reviews
---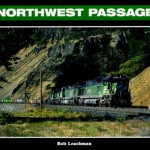 Northwest Passage by Rob Leachman

If you're in love with the Pacific Northwest or Burlington Northern Railroad, you must own this book. The color images showcase Burlington Northern's early diesels up to before the merger. Many unique angles and locations along with breathtaking landscapes keep you paging through this book reliving the green beasts on steel rails.  Read Customer Reviews
---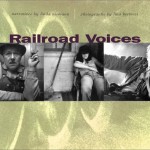 Railroad Voices by Lina Bertucci and Linda Niemann

You will not see images like these anywhere else. Photos taken by a female railroader that photographs life in an artistically pleasing way. These images show you railroaders and their spaces rather than trains and places. The insight into this world is real and raw. A world that doesn't exist remotely in the same capacity as it once did.  Read Customer Reviews
---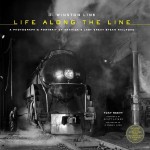 Life Along the Line by O. Winston Link, Tony Reevy, Scott Lothes, & Conway Link

To be perfectly honest, I am not a huge fan of O. Winston Link. His images were revolutionary and ahead of their time. Shooting complete scenes with trains not always the main focus and all done at night. This book changed my views of his work completely. This book showcases much more of his work that I have never seen and much of which was shot during daylight. Whole new respect.  Read Customer Reviews
---
The photography in Heartland has a much more traditional railroad photography feel. Again, full of amazing images as the rest of the books above have but not mold breaking like the photography in the books above. Greg McDonnell's photography is still outstanding and he has many titles to choose from including other genres.   Read Customer Reviews
---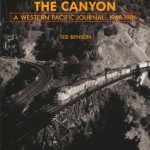 Echoes Down the Canyon by Ted Benson

I placed this book towards the bottom of the list because of the lower page count compared to the other books I reviewed and I did not like the layout of multiple smaller images on many of the pages. It is hard to fall into a photograph if it isn't large enough. The photography itself is all Ted Benson full of life and rich tones.  Read Customer Reviews
---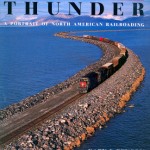 Rolling Thunder by Gary Benson and Fred Frailey

My review of Heartland closely sums up this book as well. Again, much more traditional but yet still spectacular images that transport you to a time of railroads that will be forever missed.   Read Customer Reviews
---
Also see Part 2 –  Top 10 Railroad Photography Books for Photographers
---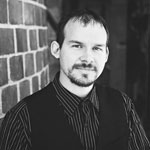 About the Author
Travis Dewitz is a professional photographer located out of Eau Claire, Wisconsin. He has been published in many books and magazines including many in the railroad industry. He does a lot of photography work and environmental portraitures for many companies and heavy industries in and around Wisconsin. He has grown up with trains and railroads are one of his passions that he pursues. His railroad photography can be seen on his website The Railroad Collection.
Like and Share with your friends and family!