The Farthest Inland Port
While far lesser known than the Twin Cities of Minneapolis and St. Paul, a pair of twin towns 150 miles to the north offer a unique combination of rail and water transportation photo opportunities. Known as the Twin Ports, the border cities of Duluth, Minnesota and Superior, Wisconsin are strategically located at the far western end of Lake Superior. Through the St. Lawrence Seaway System, completed in 1959, ships are able to sail from the Atlantic Ocean all the way to the Twin Ports, making the Duluth-Superior the farthest inland port for ocean vessels in the United States.
The Twin Ports are the largest tonnage port on the Great Lakes, having shipped 37.5 million tons in 2014 spread between 901 vessel visits.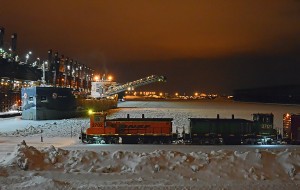 Thanks to cargo dominated by heavy bulk commodities such as iron ore, coal, grain and limestone, the Twin Ports are the largest tonnage port on the Great Lakes, having shipped 37.5 million tons in 2014 spread between 901 vessel visits. With tonnage that high it stands to reason that the four Class 1 railroads serving the port are kept busy. Burlington Northern Santa Fe and Canadian National operate their own iron ore loading docks while Union Pacific and Canadian Pacific provide competitive rail routing options. BNSF, by virtue of delivering coal from the Powder River Basin, grain and iron ore, is the dominate railroad here in terms of tonnage transloaded to ships while CN is close behind with ample amounts of iron ore and inbound limestone being handled through its dock in Duluth. CP's primary contribution is grain from western Minnesota and North Dakota while UP's local harbor activity is limited mainly to small quantities of agricultural products routed through elevators in Duluth and Superior.
While the four big railroads serving the Twin Ports headline activity around the port, many of the grain elevators plus Hallett Dock Company own or lease smaller locomotives to shuffle cars around their respective properties. These operations require patience and a bit of luck to catch in operation but they provide a welcome respite from the Class 1 operations and can usually be photographed with ships in the same frame.
Rimmed by a steep hillside, visitors and residents alike can view the workings of the harbor by driving along Duluth's scenic Skyline Parkway. This winding two-lane road overlooks the St. Louis River basin that forms the boundary between Minnesota and Wisconsin and provides excellent photo opportunities of BNSF's large yard at Rices Point and also CN's former DM&IR ore docks in West Duluth, not to mention numerous grain elevators that line the waterfront in both Duluth and Superior – no drone required. Skyline Parkway also affords views of CN trains grinding up the 2.2% grade of Proctor Hill along Duluth's western hillside with Lake Superior and local landmark Aerial Lift Bridge in the distance.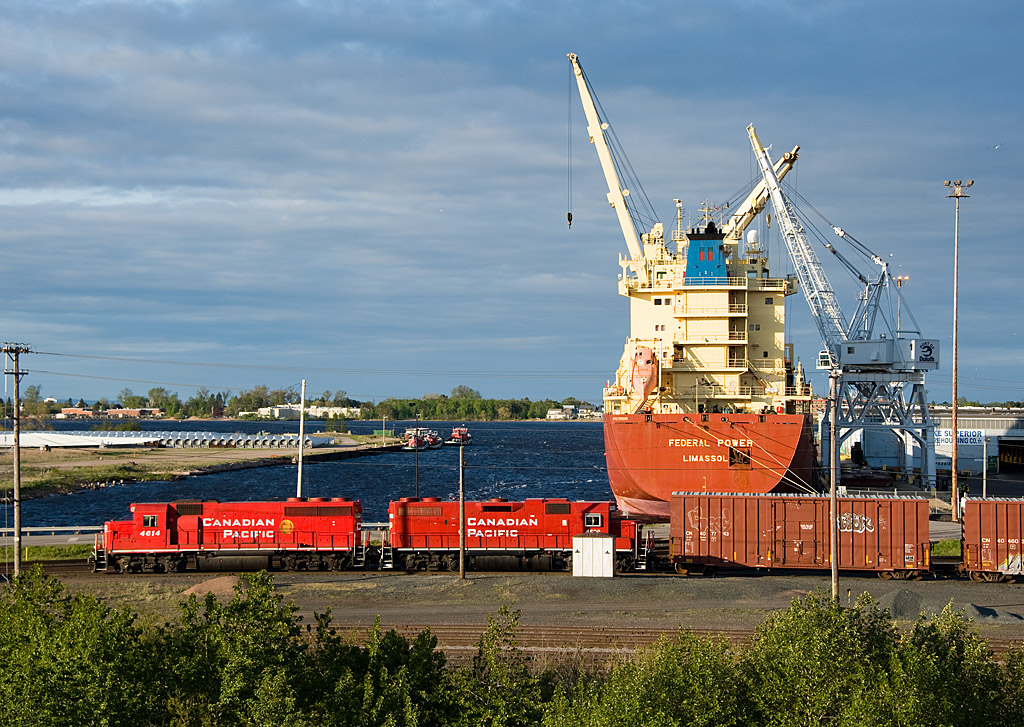 Linking Duluth and Superior is BNSF's Grassy Point swing bridge located in the western part of the harbor. This former NP bridge is over 100 years old and is a nice target for photography that can be viewed from numerous angles, including from the sidewalk on the neighboring Highway 2 "Richard Bong" bridge. Union Pacific and Canadian Pacific both use this bridge to gain access to Duluth from Superior.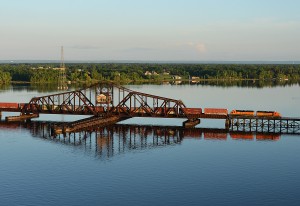 Despite shipping on Lake Superior taking a break from mid-January until late March when the Soo Locks are closed I find this actually opens up opportunities for images that capture railroads and ships together. It is common for a number of lake vessels to winter in Duluth-Superior and they provide a nice backdrop. It is hard to beat fresh snow and clear blue skies coupled with low warm winter light angles.
As a native Duluthian raised in a house overlooking Lake Superior I have always been drawn to the ships calling at the docks and the railroads that feed them. Whether it is a "saltie" delivering wind turbine blades from Europe or a giant "thousand footer" loading coal or iron ore, the combination of shipping and railroads in the Twin Ports is a wonderful draw for both boat and railroad fans.
---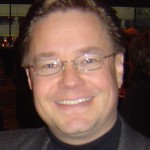 About the Author
David Schauer was born and raised in Duluth and currently resides there with his wife Laura, twin daughters Gretchen and Teresa and son Gus. Past president of the Missabe Railroad Historical Society, he currently edits the railroad news column for the Lake Superior Railroad Museum's newsletter the Junction as well as the iron ore column for Railfan & Railroad magazine.
Like and Share with your friends and family!