This abandoned tower once protected the crossing of the two parallel routes of the Chicago and North Western and the Soo Line between Cameron and Rice Lake, Wisconsin. This was the Chicago, St. Paul, Minneapolis, and Omaha Railway's line north from Altoona to Superior and Soo Line's branchline from Cameron north to Reserve. The Soo Line trackage was originally built and operated by the Rice Lake, Dallas, & Menomonie Railway which was bought by the Soo in 1900. The RLD&M's line was known as the Blueberry Line due to the abundance of wild blueberries growing along the right of way. It was natural for this location to be known as the Blueberry Crossing and Tower. The crossing was installed just south of Rice Lake in 1900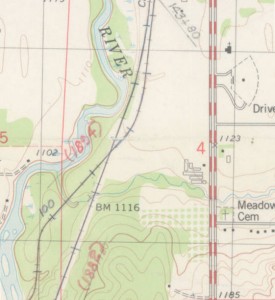 with the tower being built the following year. The RLD&M previously ran along Meadow Creek, south of this crossing, and under the Omaha Road. Continual flooding of the lower route led them to strike an agreement for an at grade crossing with the CStPM&O. Fire destroyed the original wooden interlocking tower in 1916 but was soon to be rebuilt. The replacement tower was built of brick and still stands here years after the Soo Line's tracks have been pulled up. The tower was manned until 1942 when an automatic interlocking was installed. The Wisconsin Central purchased this part of the Soo system, known as the Lake States Transportation Division, in 1987. The Wisconsin Central then purchased this portion of the C&NW's trackage from Cameron to Superior in 1990 which made the Soo's previous Cameron to Rice Lake line and crossing redundant. This lead to its abandonment in 1991, with the tracks and crossing being pulled up soon after. Canadian National took ownership after purchasing the Wisconsin Central and leased this line to Progressive Rail's Wisconsin Northern. After the discovery of Silica Sand west of Cameron, Wisconsin Northern's lease wasn't renewed by the Canadian National. The Canadian National rebuilt and took back operation of this line.
---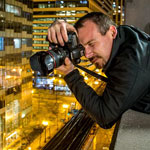 About the Photographer
Travis Dewitz is a professional photographer located out of Eau Claire, Wisconsin. He has been published in many books and magazines including many in the railroad industry. He does a lot of photography work and environmental portraitures for many companies and heavy industries in and around Wisconsin. He has grown up with trains and railroads are one of his passions that he pursues. His railroad photography can be seen on his website The Railroad Collection.
Like and Share with your friends and family!