The Norfolk and Western Railway's coal hauling right of way once followed the course of the Tug River between Welch and Davy. In 1903, the railroad started a major rebuilding project to straighten out portions of the Pocahontas Division and prepare for future double tracking. Just a year later, two tunnels were constructed roughly a mile northwest of Welch, known as Hemphill. Hemphill originated as a name of a siding, likely named after Secretary of the N&W, A.J. Hemphill in 1894, which eventually evolved into a community. The two tunnels named Hemphill Tunnel No. 1 and No. 2 respectively, were cut through the Appalachian Plateaus Physiographic Province, a region characterized by deeply incised plateaus underlain by flat-lying sedimentary rock. The rail bed was raised during this realignment to avoid the common flooding of the Tug Fork which it crosses three times in this short stretch. The realignment shaved off 2.4 miles from the previous wandering Tug Fork route. Double tracking was completed here in 1909. The N&W CPL Signal can be seen by trains exiting the west portal of tunnel no. 2 that guards Farm, a well known railroad location where a large coaling tower still stands. Today, helpers wait assignments to shove heavily loaded coal trains east up the steep steady grade.
Photo is part of the Steel Arteries – The Forgotten Main Street of America Series
---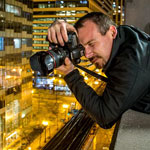 About the Photographer
Travis Dewitz is a professional photographer located out of Eau Claire, Wisconsin. He has been published in many books and magazines including many in the railroad industry. He does a lot of photography work and environmental portraitures for many companies and heavy industries in and around Wisconsin. He has grown up with trains and railroads are one of his passions that he pursues. His railroad photography can be seen on his website The Railroad Collection.
Like and Share with your friends and family!